DEFEATED "RINO" MAKES A RUN TO REPLACE PRO-LIFE REPRESENTATIVE VALOREE SWANSON
Texas Right to Life, February 14, 2022
The Riddle Record
In 2016, I defeated Debbie Riddle outright in a four-way Republican Primary (52%-39%). She then went on to support the Democrat against me. Now, 6 years later, she is hoping voters have forgotten her liberal record.
The 14-year establishment incumbent in House District 150, Debbie Riddle, had a voting record that showed she was out-of-touch with the conservative district that elected her to represent them, not Austin. The graph below shows her voting record from numerous very well-respected and established conservative watchdog groups. The trend was stunning and clearly shows why I ran against her, and why I won.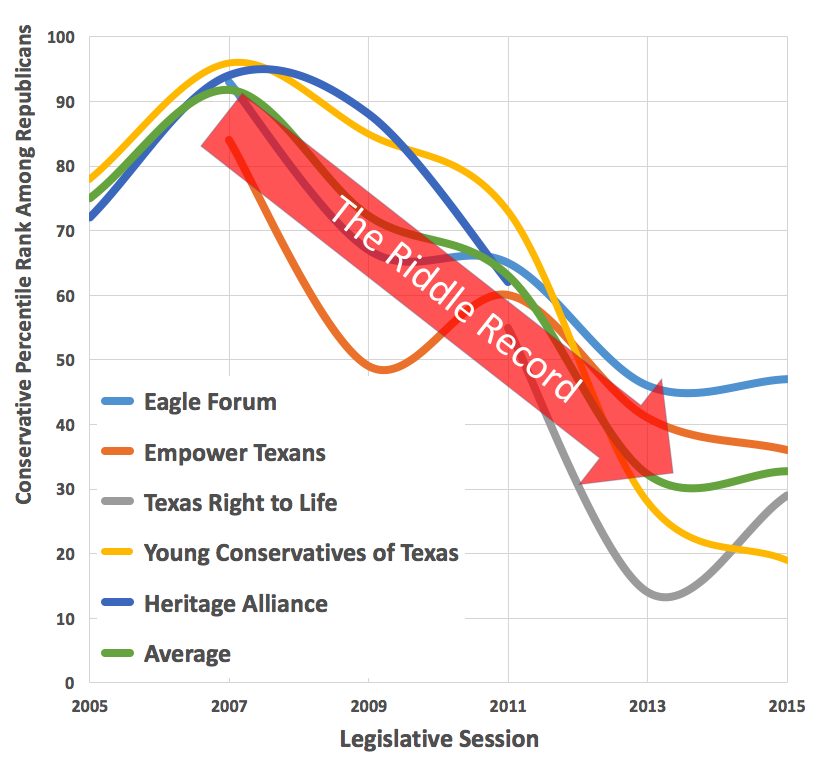 There were many alarming votes. Some on social issues, others on fiscal/budget issues. (Note the groups represented in the graph do NOT all track the same bills. Some are fiscal watchdogs, some are focused on social issues, some on pro-life issues. Each year's score from each group typically includes 10-50 separate key votes.)
A few examples of her poor voting record:
1. ProLife Failure: She voted against a PRIORITY piece of legislation (SB 575) promoted by Texas' largest, oldest, and premier Right to Life groups (Texas Right to Life website here). The bill would have made elective abortion insurance optional (instead of required as per Obamacare), and thus saved lives AND money spent on unneeded insurance. She has since offered multiple excuses to different groups, changing her story to be the exact opposite of prior excuses. Regardless of which excuse is real, her action killed the bill.1, 2, 2A This action got her placed on Texas Right to Life's "Dishonorable Mention" list where they said she "did more harm than good to the cause of Life".
2. Sharia Law Failure: Riddle voted against strengthening Texas law safeguards that would have banned Sharia law from being used in Texas' courts. This type of legislation is generically called "American Laws for American Courts" or "ALAC" for short. The ALAC bill (SB 531) had been perfected by top Constitutional lawyers and had overwhelming support among conservatives and plenty of votes to pass. Riddle co-sponsored the ALAC bill in order to look good to conservatives; then she voted with the Democrats to kill her own bill in the Speaker Straus-controlled Calendars Committee.3 Preventing the bill from ever being voted on by legislators helped her keep the appearance of a "conservative" voting record.
3. Ethics Reform/First Amendment Failure: Riddle voted AGAINST a broad Ethics and Transparency-in-Government bill (SB 19) that was championed by Texas Governor Greg Abbott and passed UNANIMOUSLY (Ds and Rs) in the Senate4. Riddle instead voted with Democrats and against a majority of the Republicans to pass a substitute bill that was clearly and ridiculously unconstitutional (it would have trampled First Amendment free speech rights) and would have had a "chilling effect" on conservative efforts around the state, including even silencing churches. 5
4. $15 Minimum Wage Failure: Though Riddle stated on an internet radio show that one of her reasons for killing her own ALAC bill was to prevent the Democrats from "chubbing" the bill, 6 she inexplicably voted FOR a bill (HJR26) to pass out of the House Calendars6A,6B committee to the House floor that would have mandated a $15/hour minimum wage in Texas. This is against sound economic policy and goes against the Texas GOP Platform.7 The Democrats in the Texas House then proceeded to use up precious legislative time "chubbing" the minimum wage bill with dozens of pre-planned amendments, before it was soundly defeated on the House floor. She voted for it with the Democrats in Calendars Committee, then the Dems used it to waste precious time on the House floor when it came up for a vote, and then she voted against it so she could deceive her constituents. She voted for it before she voted against it. The Democrat priority $15/hr bill was debated, and the ProLife Insurance bill (discussed above) was not.8
5. Parental Rights Failure: Perhaps the strongest advocates in the State of Texas for parental rights is the Texas Home School Coalition (THSC). There is an inadvertent loophole in current Texas law that essentially permits grandparents to take grandchildren away from their parent, for example in the case of single parenting. This is sometimes used because the grandparents don't approve of home schooling, and is done without the benefit of due process. Even when there is due process, the grandparents are usually much wealthier financially than their single mom daughter or daugher-in-law they are suing (yes, these are often family feuds), and can hire expensive attorneys. THSC has tried to close this loophole and in this session, Rep. Riddle would not even speak to them about it…not letting the bill even get out of committee. From a recent article where THSC recapped the stonewalling and inexplicable opposition to this conservative bill, "Representative Riddle was the only Republican legislator on the committee to withhold her vote on the bill."9 The THSC further explained that "First and foremost, Riddle was the primary roadblock for THSC's House Bill 524, also known as the Texas Parental Rights Restoration Act, getting through the Texas House."9A, 9B
6. Fiscal failure #1: Texans for Fiscal Responsibility, a conservative group that watches and issues "scorecards" on how elected officials perform with respect to protecting taxpayers and keeping government smaller, graded Riddle an "F" in her final session.10
7. Fiscal failure #2: The Wall Street Journal lambasted the 83rd legislature's spendthrift ways when they increased the size of the Texas government budget by 26% in a single biennium! The Journal headlined their editorial page chastisement nationwide as "Texas Goes Sacramento". They almost retracted and apologized later to California when they could not locate a similar tax or spending increase in California's entire history!11, 12

8. Gambling Failure #1: Riddle routinely accepted campaign donations from pro-gambling interests and lobbyists, according to Texas Ethics Commission records.
9. Gambling Failure #2: Riddle is in favor of expanded gambling at racetracks.
FOOTNOTES:
1 The most public blunder during 2015 that earned her a spot on the Dishonorable List, was casting a vote against Pro-Life Priority SB 575 in the House Calendars Committee on May 24th [2015, the 84th legislative session.]
2 http://www.legis.state.tx.us/tlodocs/84R/minutes/html/C0502015052421151.htm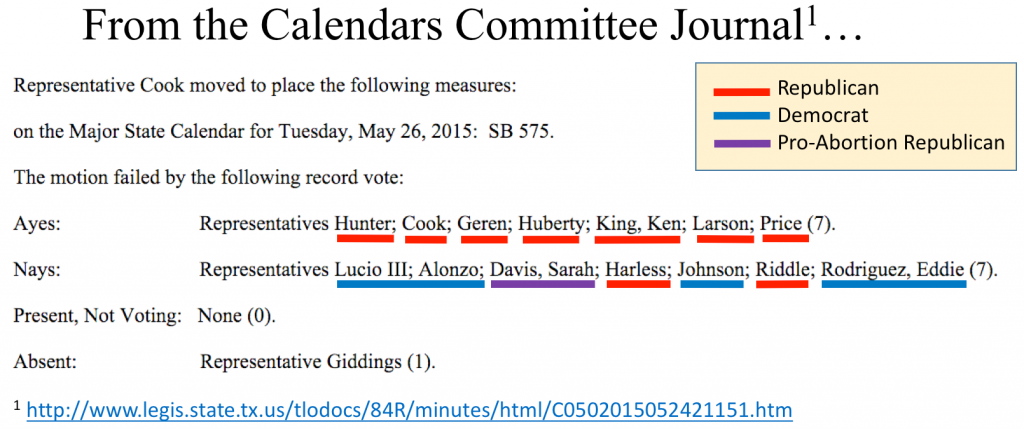 2A https://www.texastribune.org/2016/01/28/effort-take-back-gop-within/
From the article: "Among the speakers' most popular targets were Reps. Debbie Riddle, R-Tomball, and Byron Cook, R-Corsicana — both of whom, Graham said, stood in the way of bills that would have further restricted abortion. As a member of the House State Calendars Committee, Riddle voted to prevent SB 575, which would have prohibited health insurance plans sold on the Affordable Care Act's marketplace from covering abortions, from getting a vote on the House floor. Riddle later reversed her position, but the bill never got a full vote."
3 http://www.legis.state.tx.us/tlodocs/84R/minutes/html/C0502015052421151.htm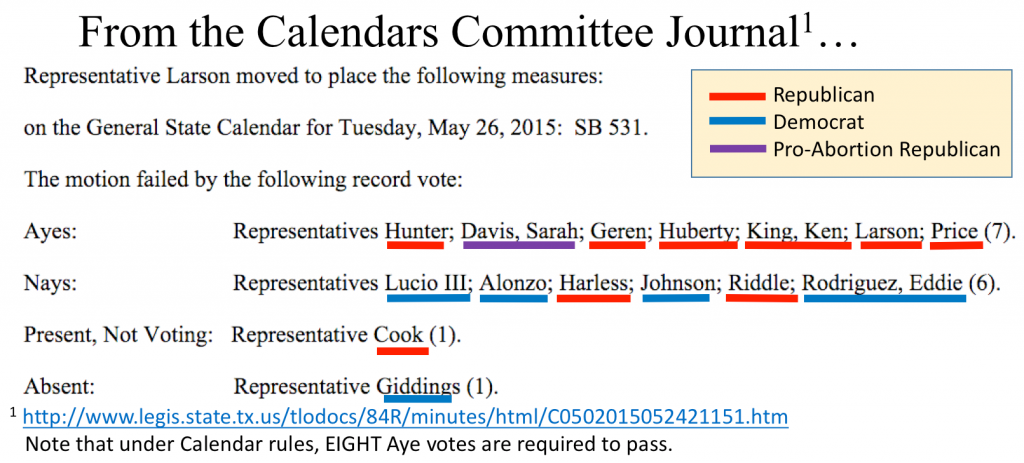 4 http://www.legis.state.tx.us/tlodocs/84R/billtext/pdf/SB00019E.pdf#navpanes=0
5 https://journals.house.texas.gov/hjrnl/84r/pdf/84RDAY81FINAL.PDF#page=8
6 "Chubbing" is the process whereby an opposing party in the Texas House can conduct a de facto filibuster in a pre-planned manner by taking advantage of House rules that permit 10 minutes of debate on any amendments to a bill being considered. For example, with 30 pre-planned amendments (none of which have any chance of passage), 300 minutes (five hours) can be used up, even if the bill itself has no chance of passing (such as the $15/hour wage bill). The Texas House Democrats have perfected this technique to kill late-in-session legislation they do not like as the Constitutional time limit runs out on the regular legislative session held every two years.
6A The House Committee on Calendars 84th Legislature, May 12, 2015, 7:50 p.m. [start] 3W.9. Minutes here.
6B The House Committee on Calendars, Ibid., reconsidered vote on HJR26 below.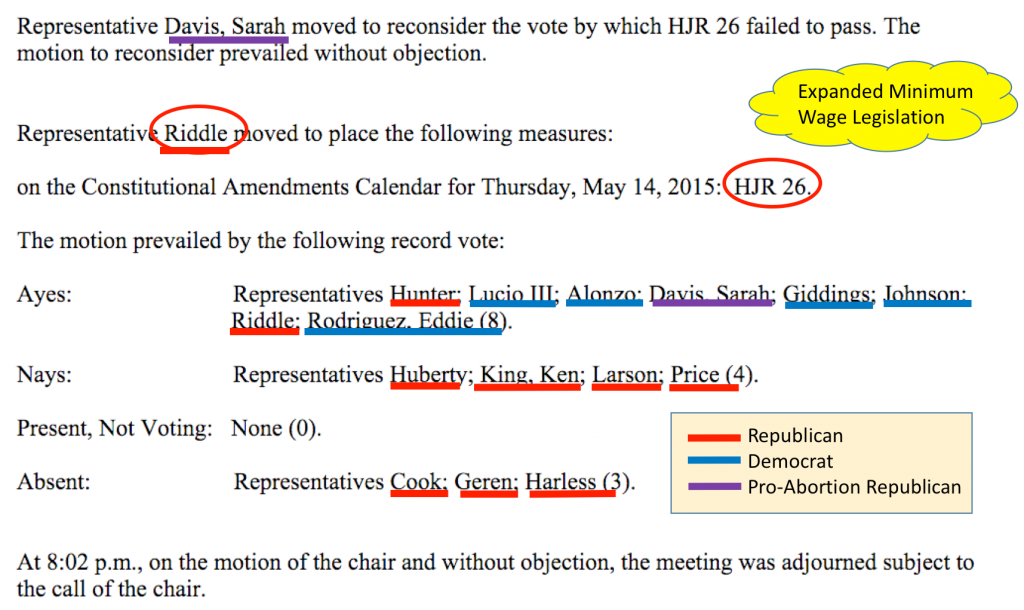 7 The 2014 Texas GOP Platform is located here.
8 http://www.empowertexans.com/under-the-dome/gopers-gave-democrats-big-vote-on-bad-policy/
9 http://www.thsc.org/2016/01/how-to-stop-a-false-conservative-21946/
9A http://www.thsc.org/about-thsc/lobby-the-texas-legislature/texas-parental-rights-restoration-act/
9Bhttp://www.thsc.org/2016/01/how-to-stop-a-false-conservative-21946/
10 https://index.texastaxpayers.com/legislators/debbie-riddle/2015-index

11 http://www.wsj.com/articles/SB10001424127887324299104578527193464764384 [Subscription may be required, but it is archived on other locations found through a Google search.
12 https://www.youtube.com/watch?v=uRCfLOQrf-c (Then-Senator Dan Patrick commenting on the budget while campaigning for Lt. Governor against then Lt. Governor Dewhurst, who had supported the budget increase along with Riddle. Riddle also endorsed Dewhurst in that election, as she had when Dewhurst ran against current Senator Ted Cruz. Senator Cruz has endorsed me for reelection.