The health and safety of my constituents is of utmost importance to me. I hope you find this resource page helpful!

We will keep updating this page as I have more updates and information to share. Please contact my office if you have any questions or need assistance with any state agencies.

Representative Valoree Swanson
Austin office: 512-463-0572
Spring office: 281-257-4222
Email: District150.Swanson@House.Texas.Gov
State of Texas
Governor Abbott's Reopen Texas Plan (announced April 27)

‣ Previous executive order shutting down businesses will expire on April 30th. New executive order, launching Phase 1, will take effect May 1st (Friday).
‣ Asked about the Harris County $1000 fine for forgetting to wear a mask, Governor Abbott responded that his orders do not mandate masks, and that his order supersedes local orders.
‣ Restaurants, movie theaters, and retail stores may open to the public at 25% capacity. In counties with fewer than 5 cases, these businesses may open at 50% capacity.
‣ Contactless outdoor sports with 4 or fewer participants, like golf and tennis, may resume.
‣ All licensed healthcare professionals may return to work with some restrictions.
‣ Hospitals must still reserve 15% capacity for COVID-19.
‣ Some businesses must remain closed: barbershops, salons, bars, and gyms, but the governor hopes to issue orders to open them in mid-May.
‣ The governor's team is still creating guidance for summer camps and child care facilities and will release it at a later date.
‣ If there are no new flare-ups of COVID-19, Phase 2 will begin around May 18th.
‣ Phase 2 would allow businesses to expand occupancy to 50% capacity.
Governor Greg Abbott declared a state of disaster for the State of Texas on March 13th, 2020. In the following days, he suspended many regulations to expedite business and healthcare operations as well as many rules governing the daily lives of Texans.

During a news conference at the state Capitol, Abbott announced an executive order that limits social gatherings to 10 people, prohibits eating and drinking at restaurants and bars while still allowing takeout, closes gyms, bans people from visiting nursing homes except for critical care and temporarily closes schools. The executive order is effective through midnight April 3.

The week of the 22nd of March, President Trump granted major disaster declaration status to Texas, freeing up major federal resources to help our state.

On March 26, Gov. Abbott issued an executive order mandating a 14-day quarantine for any individual flying into Texas from the New York metropolitan area and from the City of New Orleans, based on recommendations from public health experts in the White House. This order will be enforced by the Texas Department of Public Safety, and violators face a criminal charge carrying a 180-day jail sentence and a $1,000 fine.

On March 29, the governor extended the quarantine order to anyone traveling into Texas from the States of California, Washington, and Louisiana and the cities of Atlanta, Chicago, Detroit, and Miami.

State Parks were reopened for day-use by Governor Abbott's April 17th executive order.

You can find all of Governor Abbott's orders and daily press releases by clicking HERE.
---
Harris County

Harris County Judge Lina Hidalgo instituted a "stay-at-home" order, effective midnight Tuesday, March 24th. Read the order by clicking HERE.
All Harris County residents are ordered to stay in their residences except for "Essential Activities." Rentals, hotels, etc. are considered "residences."
All businesses in the county not defined as "essential" in the order are required to cease operations that cannot be performed from home.
All public and private gatherings of any number of individuals outside a residence are prohibited.
Individuals may go to parks, but playgrounds will be closed.
Rules governing restaurants and bars under the Judge's orders from the 19th remain in place. Restaurants will continue to be allowed to provide take-out service.
All gyms are required to remain closed.
Hair and nail salons, indoor shopping centers and malls, and activity centers are all required to close.
Religious services may only be conducted by video, and counseling sessions are required to be conducted individually.
Judge Hidalgo also issued an executive order mandating the wearing of masks in public, under penalty of a $1,000 fine. I wrote the judge, the Texas Attorney General, and the Governor asking the mandate and fine be rescinded on the grounds that it is unconstitutional, unnecessary, and wildly overly punitive. In Governor Abbott's executive order to reopen Texas, he announced that his order, which does not mandate mask-wearing, supersedes Hidalgo's.

Virtually all of Harris County's law enforcement agencies released statements saying they could not — or even would not — enforce Hidalgo's order.
Anyone who would like to receive testing in Harris County must first complete an online screening at ReadyHarris.org
---
Public Schools

Gov. Abbott's executive orders closed down school buildings and classrooms for the rest of the 2019-2020 school year.
All STAAR and End of Course testing requirements have been canceled for the year.

The Texas Education Agency has posted a great deal of information for educators and administrative staff on their website, which you can view by clicking HERE.

Many schools are still providing meal service during this closure, and information on that can be found by clicking HERE.
---
Employment and Business Issues

The Texas Workforce Commission website has seen 15 times it's normal weekly traffic. If you have experienced difficulty accessing their site, they have made some updates, and the site should be functional.
As of the third week of April, the Texas Workforce Commission has 8 operational call centers to help Texans who cannot file for unemployment benefits online.

At the top of their website, they have a red banner where visitors can find information for job-seekers, employers, and child care. Click HERE.

Sales taxes were due to be paid on March 20. I co-signed a letter with my colleagues in the Texas Freedom Caucus, asking the Comptroller, Glenn Hegar, to waive penalties and interest, given the circumstances. His office responded by creating short-term payment agreements, and in most cases, waiving penalties and interest. Find more information HERE.

The federal government is ramping up assistance to small businesses during this crisis through the Small Business Administration. For more information, click HERE.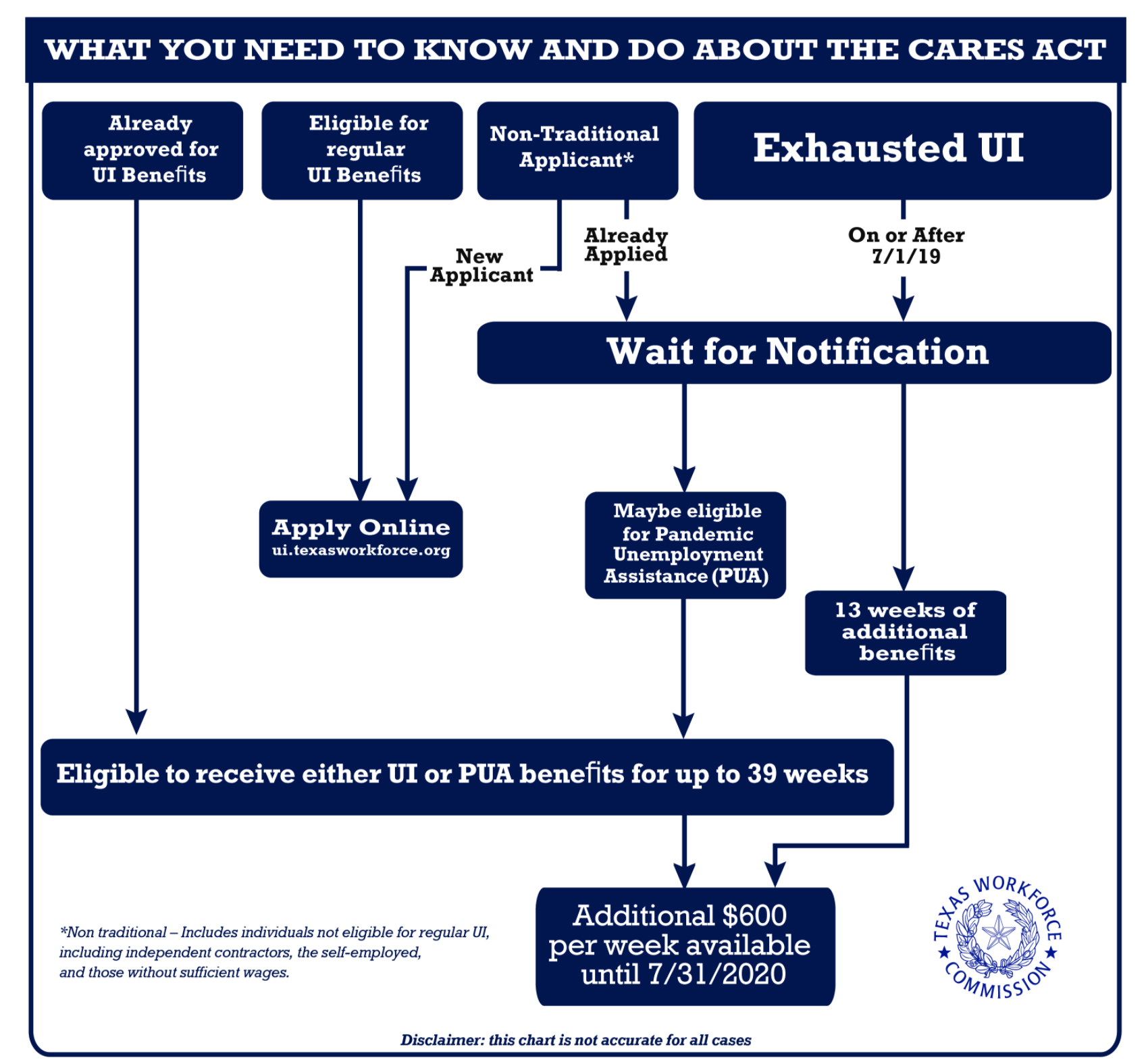 ---
Public Health Information

To find more detailed information about COVID-19 from the Texas Department of State Health Services, and to view daily updated numbers and locations of infections, click HERE.

To view drive-through testing locations, click HERE.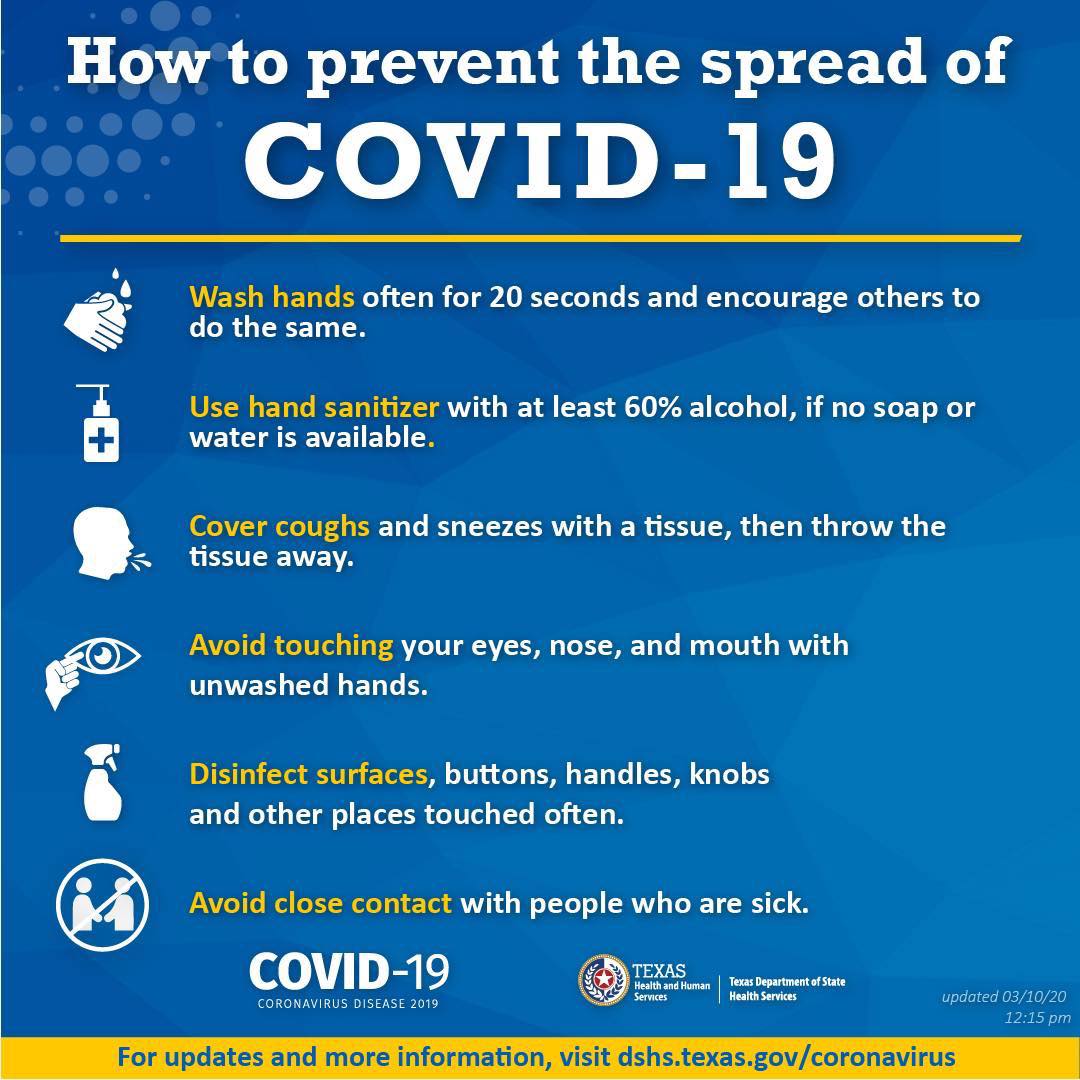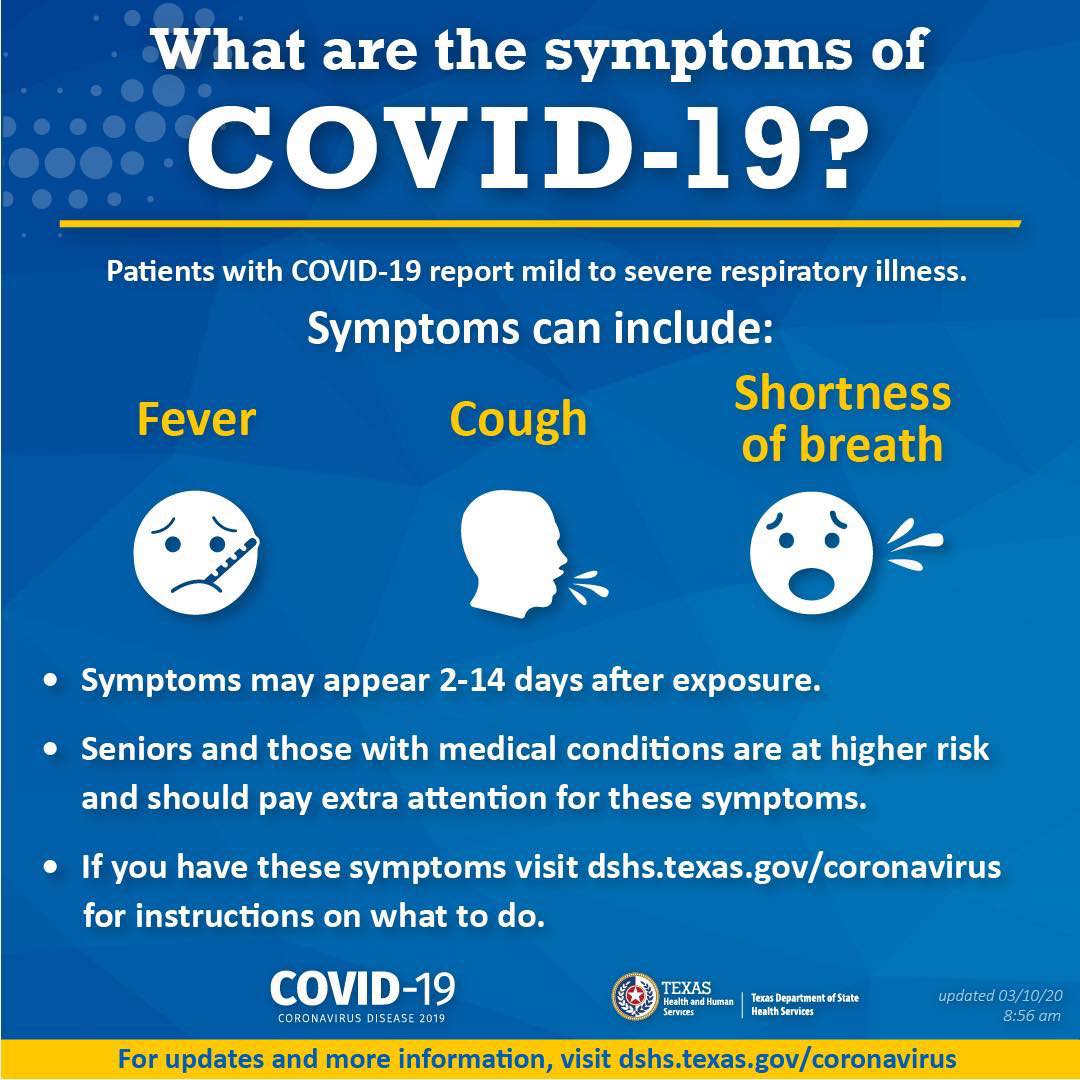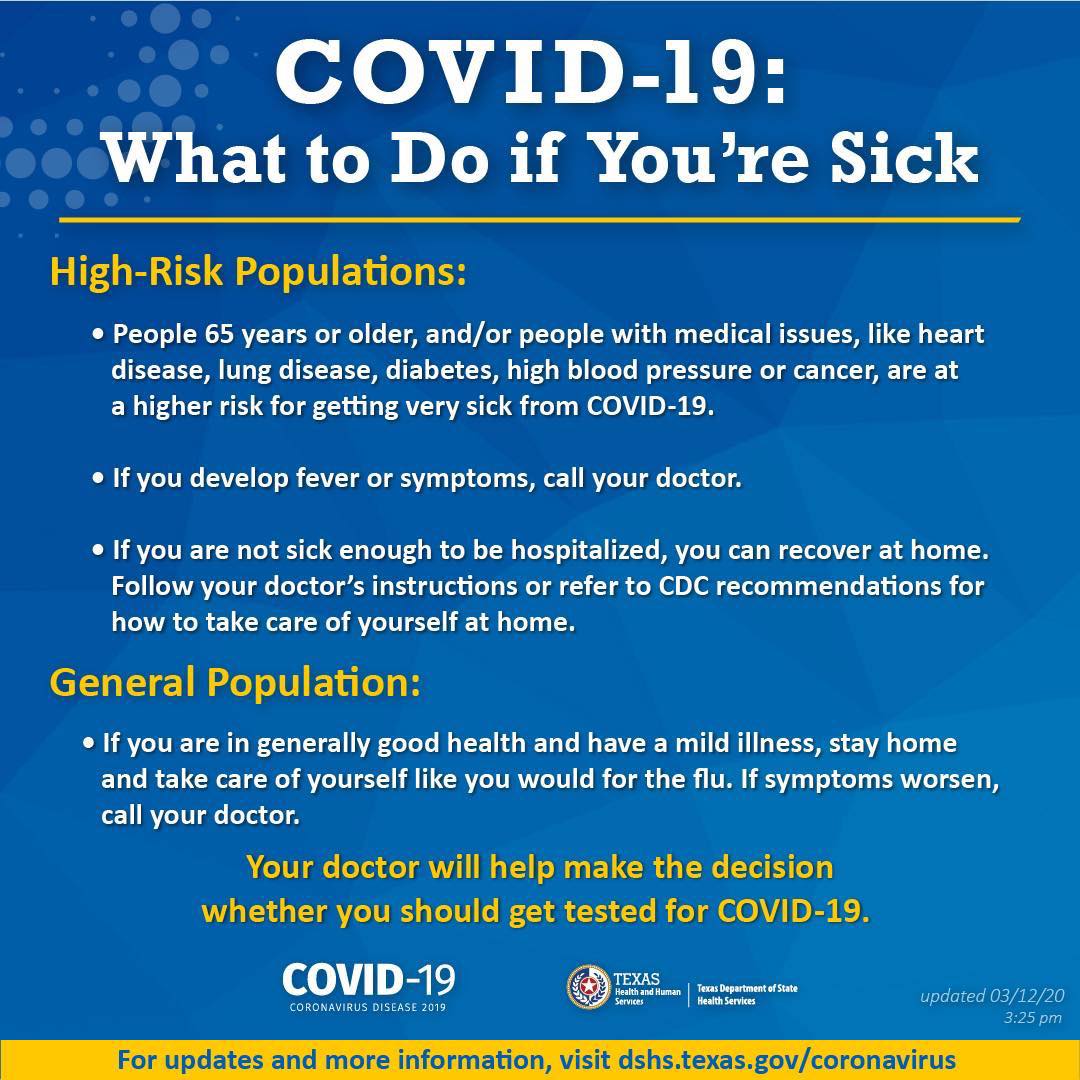 ---

CLICK TO PRINT